Welcome to i500 Headquarters!
Your source for Skins, Applications and Hacks for the Samsung i500 SmartPhone
i500 Headquarters, and it's sister site, i330 Headquarters came to be when Samsung released an excellent PDA/Phone, the SPH-i330, and later the SPH-i500. However, their standard release was missing a few features I wanted. I could either wait for a later release, or just fix these minor shortcommings myself. Well, as I'm a Palm developer, and assembly coder, I figured it was time to do a little poking. Looking through my phone's code, I saw Samsung had made it possible with this new phone to override the phone's themes, and with a little more work, access the phone's internal functions. I've now fixed the parts of the phone I didn't like, and since not everyone is an assembly coder, or wants to learn any more about their Palm other than how to use it, I made this site. You can upload your own themes, or download the work of others from here.
25591 skins posted, the most recent added on Tuesday, 07/10/2012 01:16pm.
This site is free, but to help cover server costs, bandwidth and other expenses, you can donate through PayPal any amount you choose. I hope you enjoy the applications and the site!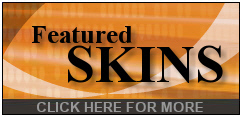 Ksenia

LCARS02

Thundercats_Blue

dice_black_text

Buceo_en_Cenote_

Halo_3